Short post to commemorate a singularly perplexing event; today is the first day of the National Police Week. So you sidle up to the statist bar and order the happy hour concoction of a Milgram-Stockholm Syndrome on the rocks. Drink deep because you are quaffing the draught of kings quite literally. No violence broker (politician) on Earth could rob a single man of his liberty if not for the uniformed thug posing as the fabled badged Samaritan. One can browse my posts and find plenty of fodder for why the police state is not only bad for your health and fraught with so many contradictions but the details are horrific. I am always amused that the French Revolution had a "Committee of Public Safety" that was knee deep in oceans of blood. There are legions of resources to get informed on why the government can't exist a day without its Janissaries to apply the wood shampoo and worst.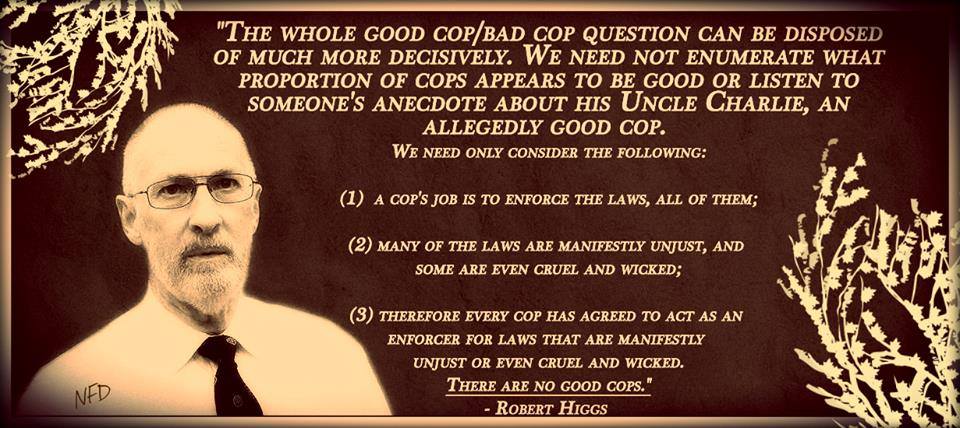 The late great
Will Grigg
was a virtual one man army fighting the police state.
Radley Balko
does a creditable job at the American Pravda, the WaPo. The
Rutherford Institute
fights the good fight.
CATO
has been running a compiler for years. The
Free Thought Project
tracks the Orc violence and mayhem.
KilledbyPolice
tracks numbers and so does the
UK Guardian
through last year. Brian Burghart does a great job at
Fatal Encounters.
I am certain there are other sources for tracking and documenting police mayhem and misbehavior out there. The coproaches even self-report fatalities
here
. Pay special attention to the kinds of deaths and the number of K9s murdered through "heat exhaustion". The ratio of murdered civilians versus cops killed by other humans is 30:1. Police officers are indicted in fewer than 1% of killings, but the indictment rate for civilians involved in a killing is 90%. And remember that since 1912, 14 cops have been convicted of murder in America. Fourteen. Grok that number, that is the value you as a Helot in America have to the rulers who lord over you. Because the government obviously views the taxpayers as mere cattle. There's a reason the robed cross-dressers rarely punish their Orcs, they have no other feeder mechanism for the gulag system.
Thanks
Vittana
:
1.
Police officers are indicted in fewer than 1% of killings, but the indictment rate for civilians involved in a killing is 90%. (FiveThirtyEight)
2.
On average, in the United States, a police officer takes the life of a citizen every 7 hours. (Fatal Encounters)
3.
In 2015, there were 1,307 people who lost their lives at the hands of a police officer or law enforcement official. In 2016, that number was 1,152. Although lower, both years are still higher than the 1,149 people who were killed by police in 2014. (Fatal Encounters/Mapping Police Violence)
4.
52% of police officers report that it is not unusual for law enforcement officials to turn a blind eye to the improper conduct of other officers. (US Department of Justice)
5.
61% of police officers state that they do not always report serious abuse that has been directly observed by fellow officers. (US Department of Justice)
6.
43% of police officers agree with this sentiment: "Always following the rules is not compatible with the need to get their job done." (US Department of Justice)
7.
84% of police officers have stated in a recent survey that they have directly witnesses a fellow officer using more force than was necessary. (US Department of Justice)
8.
Just 5% of the police departments in the United States contributed statistics to a 2001 report that was created to track police brutality on civilians. (US Department of Justice)
9.
The estimated cost of police brutality incidents in the United States is $1.8 billion. (Cop Crisis)
10.
93.7% of the victims of police brutality that involve the discharge of a weapon are men. (The Guardian)