Why are table manners and etiquette so important as to be mentioned on a blog that rarely troubles itself with such mundane matters?  Frankly, manners are the lubricant of civilization and make for a far more urbane and less trouble society.  Best of all, the government has nothing to do with it except when it comes to the regrettable outlawing of the "meeting in the morning" or dueling in other parlance.  And yes, I do think dueling has huge practical value to keep a society buoyed upright.  When I say civilization, I am referring to the stateless enterprises of convivial conversation, the enjoyment of food and the spontaneous discoveries at every event hosting friends and family.  My wife is a southern belle whose manners and knowledge of etiquette are exquisite and rather deep respectively.
Eric Hoffer says that rudeness is the weak man's imitation of strength.  He is correct and it offers a tremendous description of the current emasculation of American, if not all northern hemispheric, society.  Chivalry is strength because if honor is a gift a man gives to himself then that is a direct reflection of his treatment of those who are either weaker or disadvantaged compared to him.  Grace is not simply a religious artifact but a reflection of how a man carries himself and how his remembrance does not make people bitter.  The bully has no grace.
Often the English would say the greatest sin of a gentleman is boorishness but I would submit the greatest sin of a gentleman is not to be gentle at all. -BB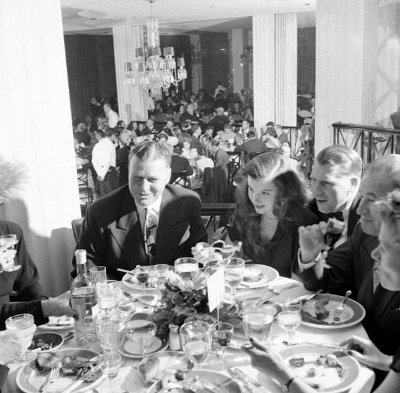 "Good manners will open doors that the best education cannot." -Clarence Thomas
Why Table Manners Matter by Antonio Centano
As a young Marine Corps Officer, I was dumbfounded one afternoon when after training on the Mark19 we transitioned into a class on proper table manners.  Taught by a petite older woman, the class covered the basics of dining etiquette. We practiced these skills at various unit dinners over the next six months. At the time, I thought the classes were useless and a waste of my time.  Yet as it turns out, while I never again fired that heavy grenade launcher, the skills I learned those evenings concerning table manners have enhanced my enjoyment of dining for over a decade.
Whether dining with a 4 star general, toasting with a Medal of Honor recipient, or sitting with friends and family on Christmas Eve, an understanding of dining protocol makes time spent with others around a table more enjoyable.  When you know the rules there is no awkwardness or questions about how things should be done; instead there is only opportunity to spend quality time with the company present.
The Need for Better Dining Etiquette
When I began to spend more time outside of military circles I noticed that many men had never been taught proper dining etiquette.  I was amazed when I returned to graduate school and met people who were spending 100K on their education but were sabotaging their own interviews over a meal that they ate from their plate like a horse.  Still other times I would witness friends embarrass themselves by eating half the food on their plate before noticing everyone else was waiting to give thanks.  A man in the year 2010, like his great-grandfather in the year 1910, still sits and eats three meals a day.  The purpose of this article is to give you the basics to dine with respect like he did.
If nothing else, live by these four rules:
Pay attention to your hosts – Being an observant diner and picking up on cues from your host will enable you to avoid 95% the embarrassing situations you could find yourself in. Simple things like waiting to eat until you see others eating and using the utensils others are using will enable you to "wing it."  However, this constant observing and following does not allow you to relax and enjoy the evening.
Chew with your mouth closed and do not talk with food in your mouth – Yes, in the year 2010 we still have a problem with men chewing with their mouths wide open.  And if you have something to say, refrain from filling your mouth the moment before.  In order to recover if expected to speak, only put a single bite in your mouth at a time.  The days of stuffing your mouth with as much food as it can hold are over.
Bring your food to your face, not your face to your food – You shouldn't be leaning over your food, shoveling it into your mouth with a distance traveled of only 6 inches.  Instead, sit straight, balance a single bite on the utensil of choice and bring it directly to your mouth.  And never drink from your soup bowl.
Say Thank You, Please, and Excuse Me – These small words are magic and should be used liberally.
Read the rest:
http://artofmanliness.com/2010/03/26/guide-dining-etiquette-table-manners/